FOUR DECADES OF BREWING IN ISTRIA
The region where the top quality products are made has always been associated with equally great climate. Istria has been a synonym for superior gastronomic experience and region of origin for top quality delicacies.
Istrian brewery aims to continue and keep this great image of Istria region even in brewing industry, by producing the popular "liquid gold". We use traditional brewing methods in a highly controlled environment of modern factories of the 21st century.
The history of industrial production of beer dates back to 1977, and it has a long journey of constant growth, transformation and big technology investments behind it. Today, Istrian Brewery is a leading brewer in the western part of Croatia, ready to manufacture large capacities and many different types and brands of beer.
In recent years production of Istrian brewery has grown to over 12 million liters per year, while our full capacity we are ready for the annual production of as much as 30 million liters of beer.
One can easily say that nowadays almost everyone can brew and that beer production is no longer a secret.

In Istrian Brewery  we openly talk about our ingredients and the production process in our brewing.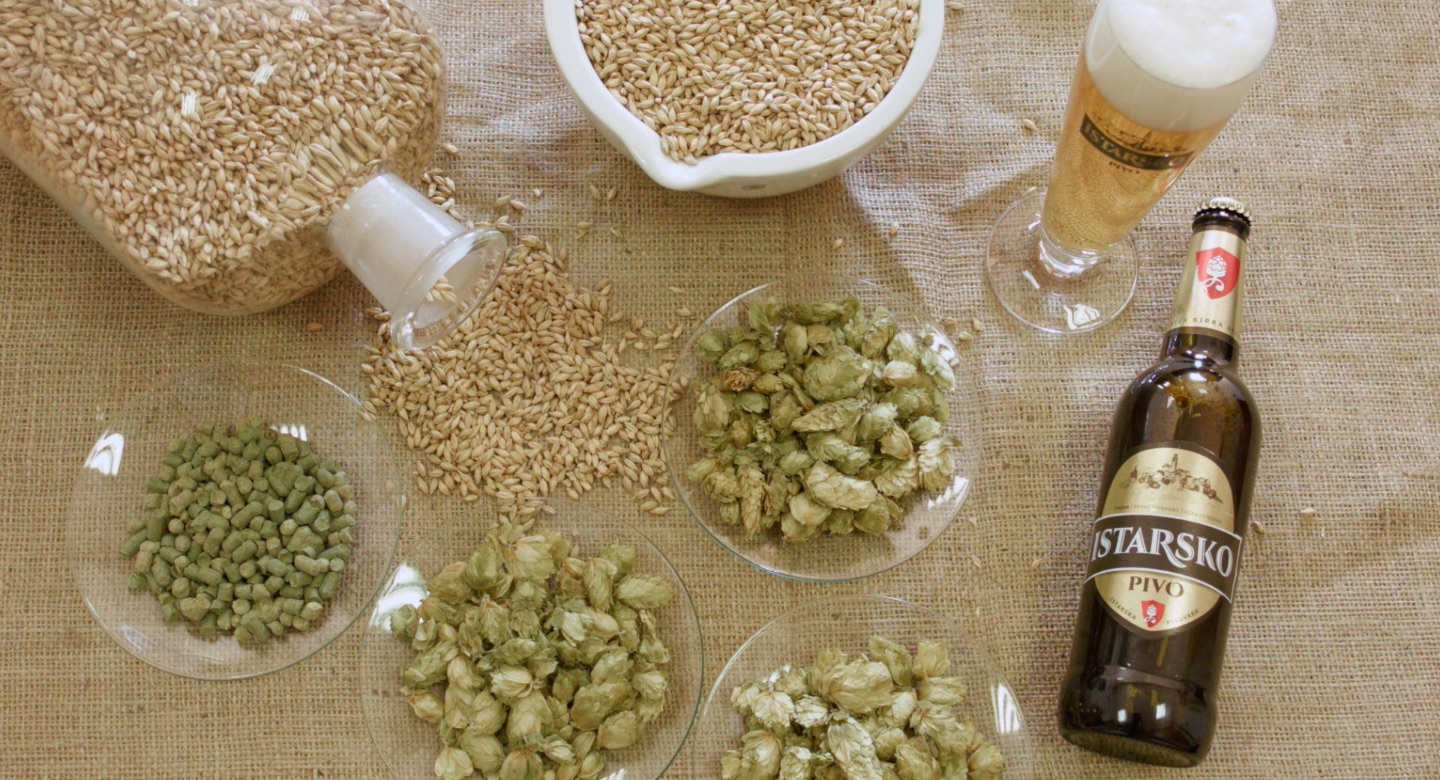 INGREDIENTS
We use the homegrown malt for brewing all our beer products. Water comes from the Sv. Ivan spring on Cicarija mountain near Buzet. For hops, we use up to four sorts, depending on beer type.
FERMENTATION
In beer production, main fermentation lasts up to ten days. After that period, the very important process of secondary fermentation begins, lasting for 30 days, when the wort is converted in our well known liquid gold. This process uses most recent technology, however the expertise of our employees is the key factor.
FILTRATION
We constantly invest in new technologies and facilities, as well as new knowledge about producing the perfect beer for our loyal customers, so they can enjoy more refined tastes of beer, the most popular drink in the world. New installations for water treatment and filtration gave opportunity for Istrian Brewery to fulfill the wishes and needs of every single customer, offering many different types of beers with different proportions of alcohol.
Our vision of development focuses on investments that are consistent with the preservation of the environment and usage of modern technology, which will ensure and continuously improve the quality of our products
BOTTLING
After the beer went through all the processes of its creation, from main ingredients to the liquid ready for consumption, we fill it in various packages on several manufacturing lanes. We are the only supplier in Croatia offering beer in small non-returnable glass bottles of 0.2 liter. We also have standard volumes of 0.5 liters and 0.33 liters in returnable glass bottles, which is only one in brewery's series of steps taken to preserve the environment.
BARRELS
Beer is a sensitive product, so it is of a  high importance to take care of the impeccable cleanliness of the packaging, at the highest level, both in glass packaging and with barrels of beer. Standard barrels are filled in volumes of 25, 30 and 50 liters, and the full capacity of the two production lines can fill up to 100 barrels per hour.
PET BOTTLES
The last major capital investment is a large capacity PET bottling production line. With this product line, Istrian brewery became a manufacturing leader throughout the region, filling the numerous brands of beer for many major retailers.
Our mission is satisfying all the needs of our loyal and future customers
QUALITY CONTROL
Our beer is constantly controlled by the expert team that takes care of purity and quality of our products before they leave the production facility.
Quality management and continuous investment in people and production facilities have resulted in acheiving several important quality certificates.
CERTIFICATES
ISO 9 001 (2002.)

HACCP (2006.)

ISO 14 001 (2010.)

International Food Standard (2014.)

Croatian Quality (2015.)
CONTACT
Istarska pivovara d.o.o.
Sv. Ivan Dol 10
52420 Buzet
Tel: +385 52 662000
Fax: +385 52 662652
info@istarska-pivovara.hr
BASIC INFO
Registered at: Trgovački sud u Rijeci - Stalna služba u Pazinu
Year of founding: 2008.
Registry number: 080681957
VAT number: 34031012034
Line of Business: Beer production
Owners: 100% Croatian
CEO: Davor Doko